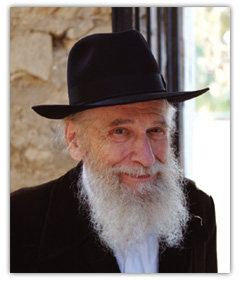 Moshe Tzvi Halevi Berger was born in Transylvania in 1924. A holocaust survivor, he was the embodiment of the strength of the human spirit.
Having lived in Italy, France and the United States through the course of his storied career, Mr. Berger found his home upon immigrating to Israel in 1992, and resided in Jerusalem until his passing in 2015.
Mr. Berger  studied his craft at the Belle Arte in Rome, and at the Beaux Arts in Paris. Since 1982, the year of Mr. Berger's return to his faith, he has exhibited his paintings in over one hundred one-man exhibitions spanning three continents. The largest of his works, a 1988 mural in Brooklyn, NY, stood six stories high.
In 1995, under the auspices of Rabbi Meir Yehudah Getz of blessed memory, who was Rabbi of the old City, Mr. Berger founded The Museum of Psalms in downtown Jerusalem.
The Museum of Psalms features the artist's Psalms collection, a series of one hundred and fifty paintings, one painting for each one of the Psalms – a major achievement!
In addition to being a master with the painter's brush, Moshe Tzvi was a serious student of Kabbalah for many years. He has the distinction of being the first and only artist to exhibit his paintings at Jerusalem's Western Wall and at The Cardo.
It is particularly fitting that Mr. Berger is a Levite – a descendant of the ancient Israelite tribe of Levi, whose members were chosen to serve in the Holy Temple in Jerusalem, singing the Psalms with musical accompaniment. Like his ancestors who elevated these holy words through music and song, Mr. Berger too has used his G-d-given talents for artistic expression of the Psalms.
"The eyes of all the nations are turned to the Holy Land", the artist pointed out. It was his belief that his paintings of the Book of Psalms will "bring inspiration to the souls of the many who seek spiritual enlightenment and do not live by bread alone."
There are millions of artists and thousands of Kabbalists, but a talented artist who is also a student of the Kabbalah is a rare phenomenon.
- The Admor of Sretten